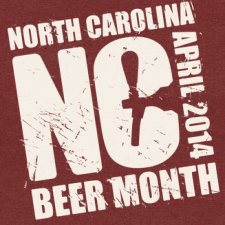 There are many reasons to drink craft beer. Here are a few:
1) it usually tastes better
2) more often than not it's locally brewed
3) this month you can get it free
April is NC Craft Beer month – a month worth celebrating! And celebrate we plan to do – we want to you celebrate too. Here is our suggestion, stop by The Wagon and grab a growler of our favorite NC beer ( we have 10 to choose from). Drink it and share about it on your favorite social media sites (ie Facebook,  Twitter, Instagram,  etc). When you post, use the hashtag #ncbeerwagon
Now you may be asking "why would I do such a thing? After all Jimmy Fallon and some other famous people hate hashtags." Maybe you are thinking, "I don't even know what a hashtag is!" well, now is a good time to learn – because we want to
give you a growler. Even better we want to fill it up for you! All you have to do is drink beer (NC craft beer) that you purchased at The Veggie Wagon; talk about it on social media (i.e. Facebook, Twitter, Instagram, Google+, Pinterest) and tag it with the
hashtag
#NCBeerWagon
That's reason enough to use a hashtag!

Use the hashtag as often as you wish throughout the month of April. On

May 1

st we'll choose a winner and they'll take home a growler filled with your choice of a delicious NC Craft Beer that we have on tap.